Little Shop of Horrors 2012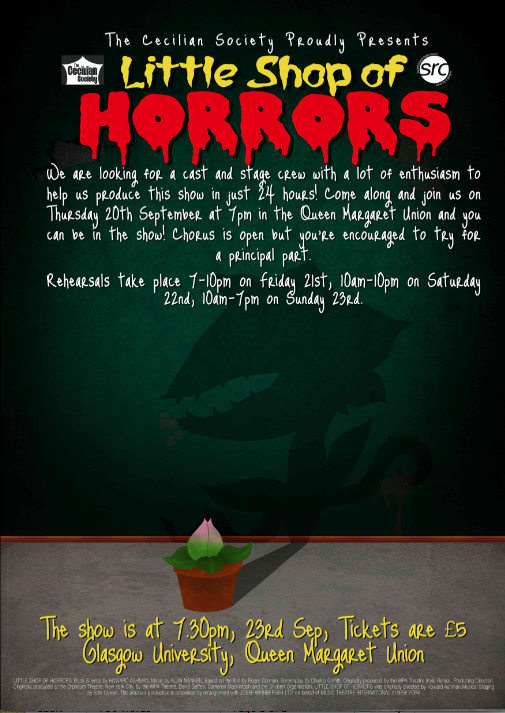 Design by Eilidh McMillan
Seymour, an orphan and a nerd, is taken in and given a job by Mr. Mushnik, the owner of a run down Florists in the seedy part of town. Seymour spends his time doing menial tasks and dreaming of the shop assistant, Audrey. One day, just after an eclipse of the Sun, Seymour discovers a strange plant. He buys it and names is Audrey II. While caring for Audrey II, Seymour discovers the plant's rather unique appetite. The plant grows and grows, as does Seymour's infatuation for Audrey, but who will get her first? FEED ME!
Director:

Laura Bauld


Assistant Director:

Elliott Fulton


Musical Director:

Niall Murray


Assistant Musical Director:

Alex Lyne


Choreographer:

Kim Henderson


Assistant Choreographer:

Stephanie Henning


Technical Director:

Faith Clark


Assistant Technical Director:

Abi Maclean
The Cecilian Society managed to choreograph and direct a cast of 70 for what some would assume is an ensemble show. The use of a three-person plant, drag, a sexually frustrated journalist and a cameo appearance of Captain Obvious were just some of the things which made this one of our funniest weekend shows!
Photographs by Abbie MacLean