High School Musical 2022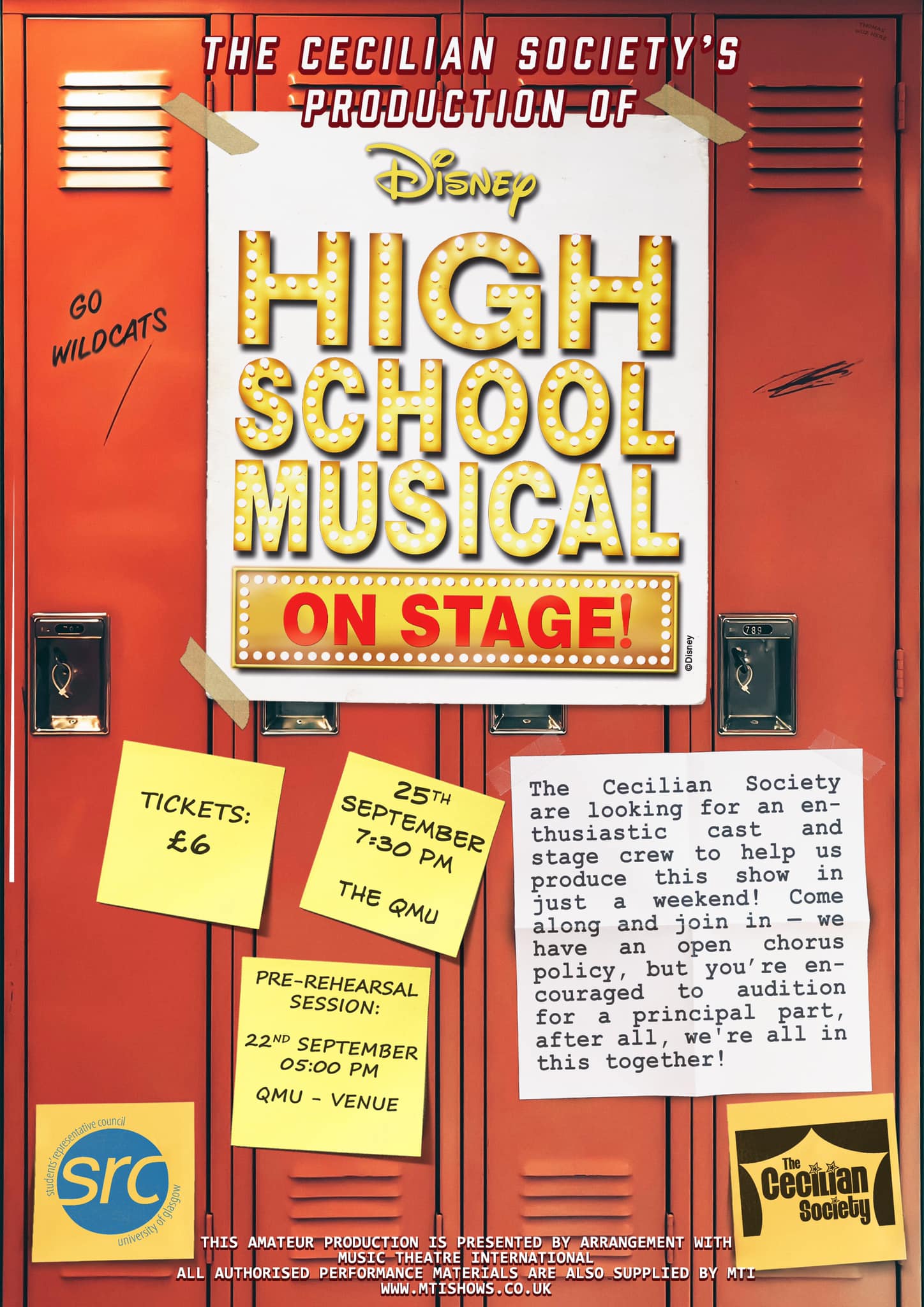 Poster Designed by Thomas Matheson
It's the first day after winter break at East High. Basketball team captain and resident jock, Troy, discovers that the brainy Gabriella, a girl he met singing karaoke on his ski trip, has just enrolled at East High. They cause an upheaval when they decide to audition for the high school musical that is being led by Ms. Darbus. Although many students resent the threat posed to the "status quo," Troy and Gabriella's alliance might just open the door for others to shine as well.
Co-Directors: Killian Spence and Priya Williams
Musical Director:

 Anne Hornman
Assistant Musical Director:

Moray McConnachie
Choreographer:

Joseph McKervey
Assistant Choreographers:

Katie Handle and Anna Bulloch
Tech Director:

Hagar Libman
Assistant Tech Director:

Fleur Smith
Lights and Sound Director:

 Malak El Dessouki
Stage Manager:

Nell Wallace Pawley
---
The Cecilian Society proudly presents: Disney's High School Musical.
Book by David Simpatico. Original Songs by Matthew Gerrard & Robbie Nevil, David N. Lawrence & Faye Greenberg, Randy Petersen & Kevin Quinn, Bryan Louiselle, Jamie Houston, Andy Dodd & Adam Watts, Antonina Armato & Tim James. Music Adapted, Arranged and Produced by Bryan Louiselle. Based on a Disney Channel Original Movie Written by Peter Barsocchini.
This amateur production is presented by arrangement with Music Theatre International (Europe). All authorised performance materials are also supplied by MTI Europe www.mtishows.co.uk.