Footloose 2023
The Cecilian Society performed Footloose at Platform in Easterhouse on the 8th-11th of March 2023!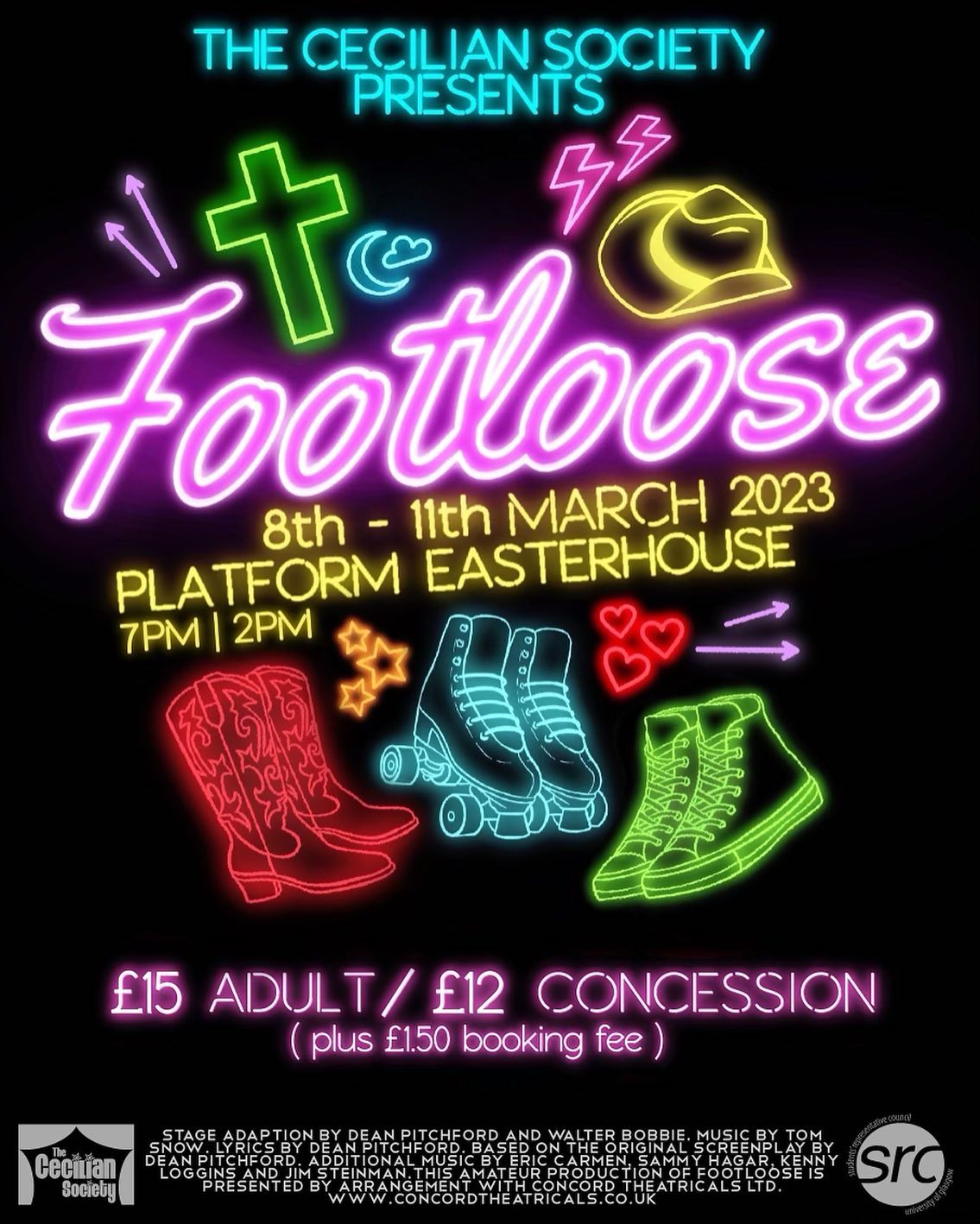 Poster designed by Emily Murdoch
Footloose is an upbeat, electric show that follows Ren McCormack as he attempts to inject fun back into the small town of Bomont all while falling in love with Ariel Moore, the rebellious daughter of the town Reverend. It is filled with 80's classics such as Holding Out For a Hero, as well as some original numbers, that simply make you want to get up and dance! Our society absolutely loved rehearsing and performing such a fun show. This was our first year fully back to normal after COVID-19, and we can definitely say we returned with a bang!
Director: Rahneda Veka
Assistant Director: Tilly Bird
Musical Director: Mhairi McCormack
Assistant Musical Director: Ross Burns
Choreographer: Lucy Doherty
Assistant Choreographer: Charlie Rex
Tech Director: Thomas Mathieson
Assistant Tech Director: Hagar Libman
Stage Manager: Fleur Smith
The Cecilian Society proudly presents: Footloose!
Book by Dean Pitchford and Walter Bobbie. Music by Tom Snow and lyrics by Dean Pitchford. Based on the original screenplay by Dean Pitchford. Additional music by Eric Carmen, Sammy Hagar, Kenny Loggins and Jim Steinman
This amateur production of Footloose is presented by arrangement with Concord Theatricals Ltd. All authorised performances 

materials are also supplied by Concord Theatricals Ltd www.concordtheatricals.co.uk