Oklahoma! 2012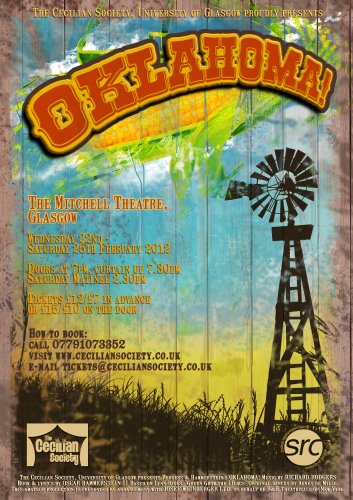 Design by Andrew McDivitt
Set in the Oklahoma territory in the early 1900s, this musical tells the story of two pairs of lovers. Curly is a cowboy who has trouble admitting his feelings to Laurey, as she does to him, because of their stubbornness. Judd, the hired hand at Laurey's farm, tries to come between them. Ado Annie is torn between Will, a cowboy who has strong feelings for her, and Ali Hakim, a peddler who's a ladies' man and doesn't want to marry her.
Director: 

Yasmin Galloway


Musical Director:

Kirsty Leith


Choreographer: Susanne McLean
Technical Director: Kit Stonier
Assistant Technical Director: 

Faith Clark



Oklahoma! is known in the society as 'the show which ends three times.' A lot of blood, sweat and tears went into our 2012 production, but in the end it turned out to be a darn good time!
Photography by Robyn Ramsay