Committee
Rosie Shaw — President
(president@ceciliansociety.co.uk)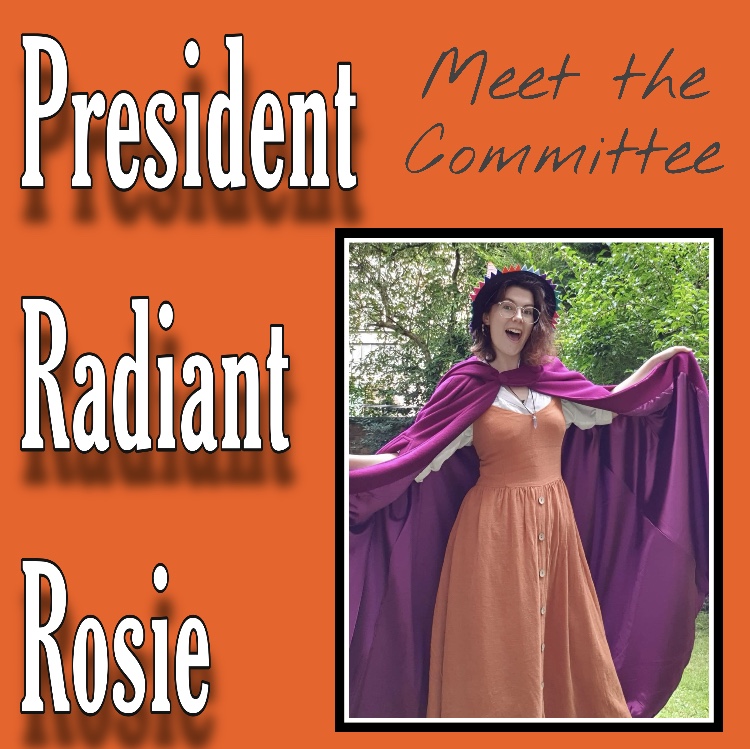 Rosie has been a Cecilian for 3 years now, officially making her one of the Oldies. (she still feels like a fresher but dont tell anyone shes trying to appear responsible) In that time she's invited the techies for tea, played her dream roles of a whale and a world-ending flood, and convinced most people in the society that shes a witch (a rumour she is very attached to and is also 100% true) Becoming president during a pandemic whilst writing her dissertation for her 4th year Geography degree hasn't been the easiest task, but shes loved every second so far and cant wait to get the year started properly! Her goals for the year include sewing cecilian themed masks for everyone, bringing dad sandals back into fashion and saying yeehaw at least once in her dinner dance speech
---
Anna Bailey — Vice President
(vicepresident@ceciliansociety.co.uk)

Anna is returning for her third year of university studying chemistry and she is very excited to be taking on the role of Vice-President this year. During lockdown Anna has been busying herself with writing the Cecilian newsletter, learning Italian, listening to every musical theatre album under the sun and binge watching many a TV show with her flatmate and fellow Cecilian Anna. Throughout Cecilians she has been seen working at Lava springs country club, being a yellow snail, studying at a 90's high school and living out her 20's fantasy in Pippin as well as booking rehearsal rooms as last year's university affairs. She is very excited for another year with the crazy but amazing family The Cecilian Society has become for her. The fictional character Anna has dressed up as is Boo from Monsters Inc as it is her favourite Disney Pixar Movie.
---
Gustav Selstam — Secretary
(secretary@ceciliansociety.co.uk) 
Dark rainclouds gather to tell everyone that Gustav is returning. His third year in the society kicks off with a third, VERY informative bio. Being a big history nerd, it was only natural that he should seek out the role of secretary. It's the only committee role that lets you decide the narrative of a Cecilian year, which can only mean one thing: this year's minutes and e-mails will be fair, square and full of flare. Otherwise he vows to go into exile.
---
Rained Veka — Treasurer
(treasurer@ceciliansociety.co.uk)
No one pays like Gaston 
No one saves like Gaston 
No one takes care of budget as well as Gaston!
At the beginning of the last year, Rahneda 'Cecilian Society's MemeTM' Veka was super shy; now she is super shy but pushing through it, yet very excited to take on the role of Treasurer. She's a 3rd year Theatre and English Lit student, which opens up exactly 0 career paths for her in the future, and gives her flatmates a headache as all Rahneda can chat about is iambic pentameter, futurism in performance and how much she hates Great Expectations by Charles Dickens. 
With the soundtrack of Jasper in the Deadland always at the back of her mind (rip), Rahneda managed to enjoy Pippin in all of its GLORY whether it meant dying on stage, trying not to look stage crew in the eyes during No Time At All or chasing techies down for payments. In fact, she enjoyed collecting money so much that she decided to take it up to a new level and now bother the entire membership with auction debts and weekend away payments. Beware.
---
Jamie Maskall — Past President
(pastpresident@ceciliansociety.co.uk)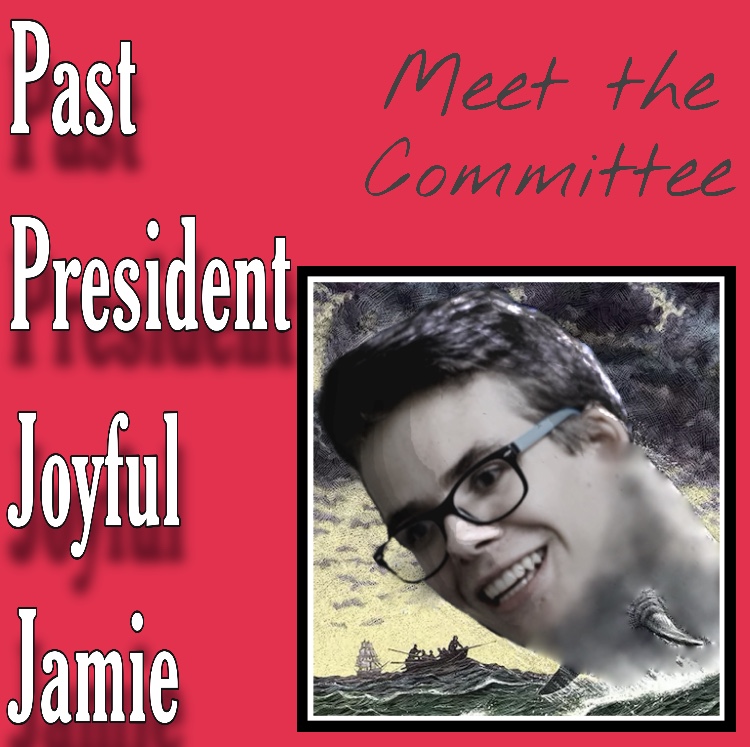 Call him Ishmael. Wait no, call him Jamie.
Like biting the leg off a sailor, Jamie managed to make off with a degree in Neuroscience & Psychology at the end of last year. Now, he haunts the metaphoric seas of Glasgow; sometimes appearing as a tall but obscure figure on the horizon and other times taking large bites out of boats. What he searches the waves for we cannot hope to know. Is it Krill? Revenge? Fulfilling employment in a field relevant to his degree? If captured he may divulge a pearl of wisdom as is befit of a Past President, but the ocean has worn his mind like a piece of sea glass and his pearls are more often silt. He hopes you all have a whale of a time this year.
---
Francheska Francisco — University Affairs
(universityaffairs@ceciliansociety.co.uk)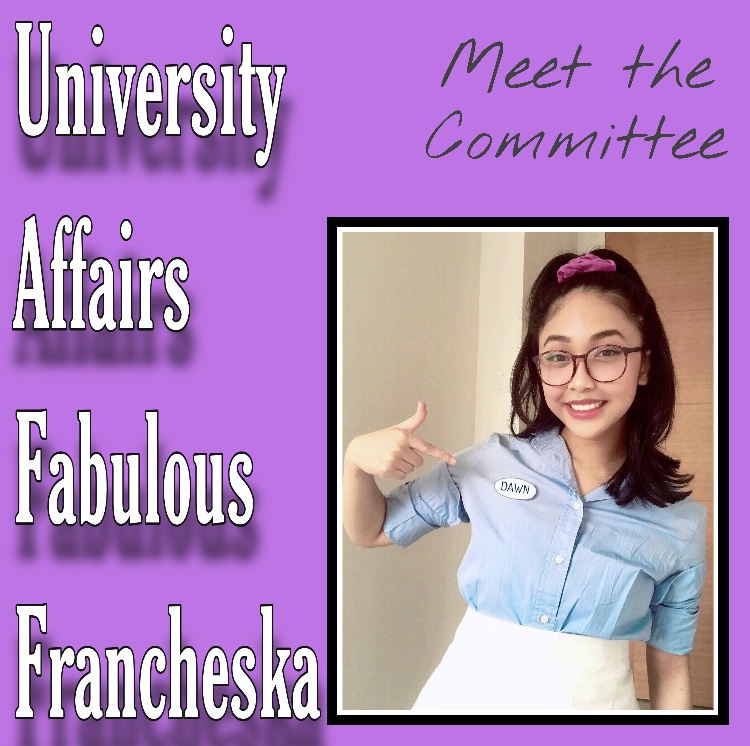 Who's five foot three and back for her degree? It's Francheska, a third year English Literature student, and she is so thrilled to be reuniting with her cecilian pals for more fun times ahead. A big lover of post-it's, pastel highlighters and colour coded things, Francheska is excited to make diaries and planners her new best friend as she tackles her ✨!!shiny!!✨new role as University Affairs, all whilst trying to wrap her head around the weird and wacky world of email sign-offs. If only she could learn to time travel and tell her 2018 self that Cecilians would bring her the best memories, a love for a good dance break (it's actually not so scary!), and a new favourite animal sidekick 🦆 Francheska can't wait to share her love for the society in the upcoming year, but for now she would like to know: cookie before the cream??
---
Priya Williams — Company Manager
(companymanager@ceciliansociety.co.uk)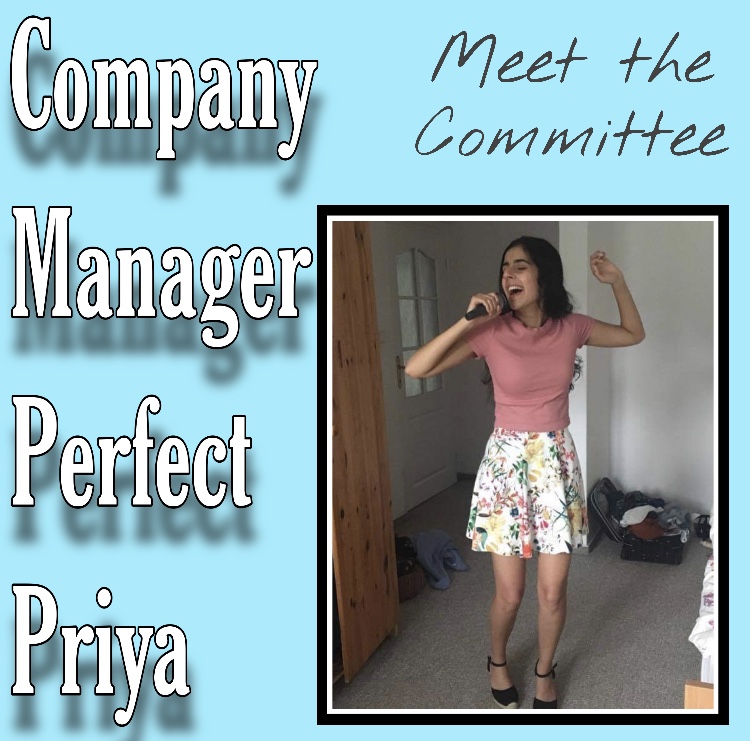 This will be Priya's third year with the society, which means all her main show experiences she owes to Stephen Schwartz. She is excited to jump straight into the role of company manager with the goal of achieving the obscure world record of 'musical theatre society with the highest amount of consecutive Stephen Schwartz main shows'. With that being said, she's so excited to put on Wicked this year!!!!!!!!! (Jks) As an avid high school musical fan, Priya is constantly brainstorming ways to make hsm a viable main show option. Will beg MTI to let her add more original chorus numbers if necessary. She is ready to get her head in the game and manage the hell out of the company and try to make this crazy Corona effected year a good one for everyone!!!!!!!! (Because we are ALL in this together, obviously) 🤪🏀🎶💃🏽
---
Lucy Dickson — Stores Manager/Tech Liaison
(storesmanager@ceciliansociety.co.uk) 
Lucy is very excited to be on committee this year as the latest addition to a long line of resident stores gremlins. She is a 3rd year anatomy student, and it's a miracle she's made it this far because she is at rehearsal more than she goes to lectures, and that's not an exaggeration. After quarantine, this year Lucy is most looking forward to basic human contact, even better if she gets to sing and dance to a musical not written by Stephen Schwartz. Her dream role would be Karen from Mean Girls if she had the range. Lucy can always be recognised by the faint smell of hair dye that follows her everywhere.
---
Michael Devine — Membership Liaison
(membership@ceciliansociety.co.uk)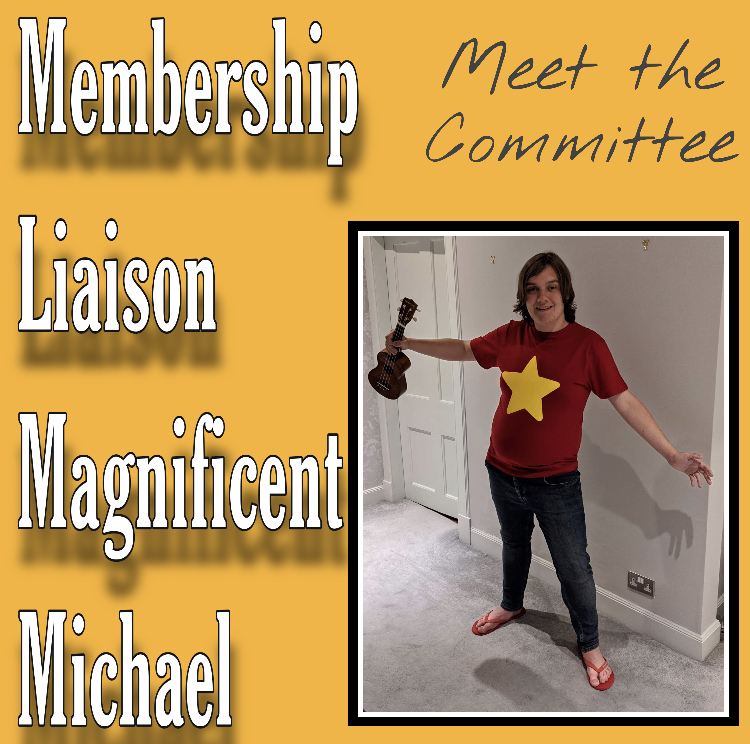 Michael is excited to get back to the society after the events of the summer. Last year he switched course from computing to English literature and during that change he decided to give musical theatre a try. One year later, after attending every possible social event he could, he has immersed himself in the cult "sorry" society further and is excited to help others get involved. His friends now worry that unless they communicate with him in musical numbers he will not listen. And some whisper that all he does when he is not at Cecilian's is wander the streets of Glasgow murmuring lyrics to last years show Pippin. As society's new Mr Membership he is gonna try his very best to make sure all the society's members have a great experience this year… and swear the undying oath to Cecilian's.
---
Killian Spence — Social Convenor
(social@ceciliansociety.co.uk)
Killian is swinging into his second year of common law and the role of socials convenor this year. From his first role as a toy clown saving Christmas to his Olivier-worthy job of bringing life to Aladdin in community theatre at 15, Killian has always enjoyed flinging himself around the stage. His first year in the Cecilian Society with Pippin was no different. Killian's personal hero is a combination of spider-man and himself, and he still both looks and feels five, qualifying him perfectly to organise this year's social calendar. He's as excited as ever to get going this year!
---
Charis Fung — Fundraising Manager
(fundraising@ceciliansociety.co.uk)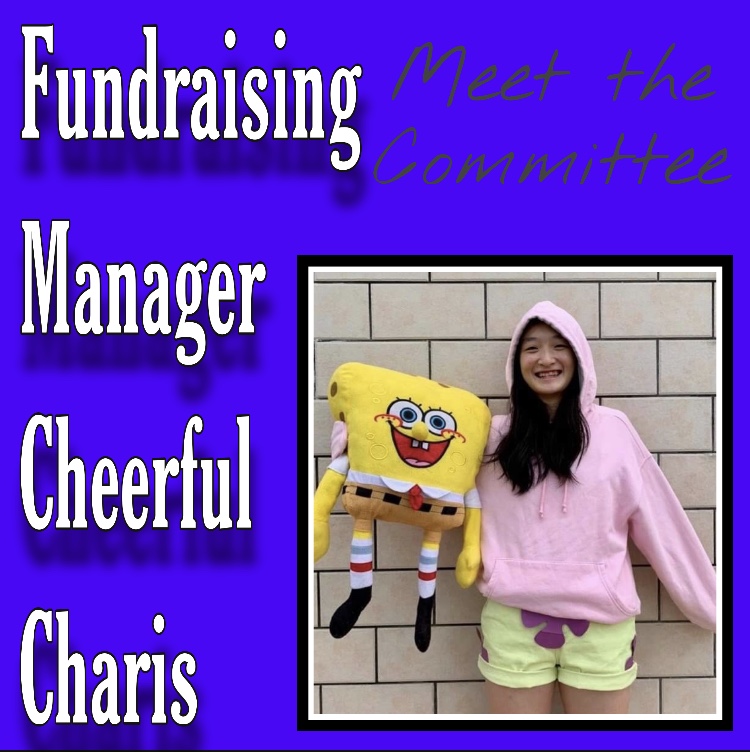 Charis is going into her second year of uni, and she is very excited to be taking on the role of fundraising manager this year. First of all she would like to personally thank Covid-19 for making her fundraising duties even more humongous than they already were. She has never had the experience of raising mega funds during a global pandemic for a 69 year old society, but with this awesome team beside her, she feels like she is ready to take on this challenge with some swaggeRR~~~ Fun facts about her: Her hobbies include pretending to be sporty, pretending to be artistic, sitting on the floor, code switching, and laughing. She also played the flute all the way from year 1 to 10 but still sucks and is no where close to being as cool as Lizzo. She can't wait to meet everyone this year!!!
---
Jack Stewart — Publicity Manager
(publicity@ceciliansociety.co.uk)
Coming off the crazy fun ride that was Pippin, Jack is excited to jump back into the fire again by joining committee during a global pandemic. Going into his 4th year at Glasgow studying Product Design Engineering Jack is excited to stir up the creative talents of the membership and see all of the awesome poster submissions and hopefully produce a programme with less spelling mistakes. Jack is also looking forward to helping reclaim stores from the rats and build some snazzy sets!
---
Natasha Brown — Media Manager
(media@ceciliansociety.co.uk)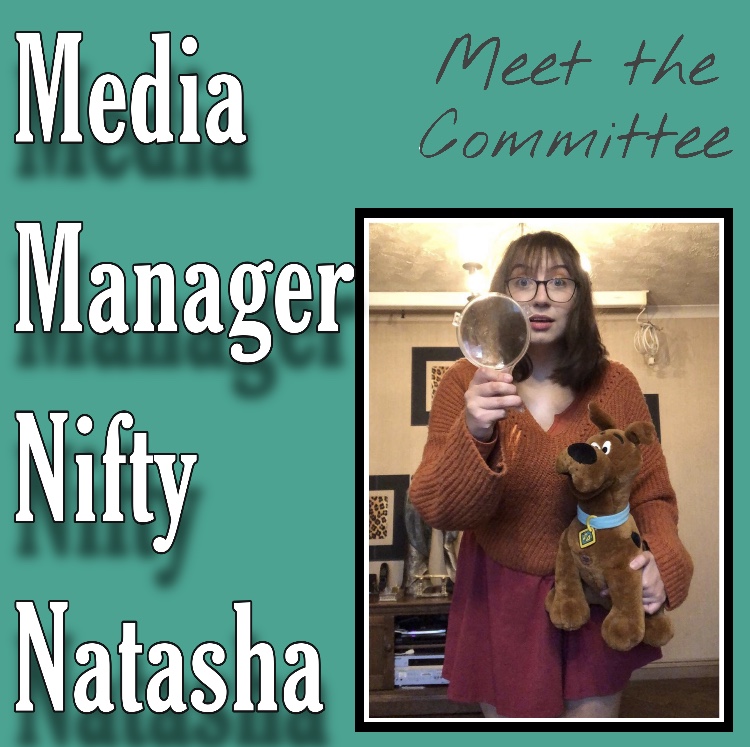 Get ready for the return of your favourite meddling kid, Natasha! She is excited to be returning for her second year of a Music/Film & TV degree and can't wait to be reunited with her one true love… all things Stephen Swartz, oh no wait that is meant to be the Cecilians, Jinkies! She intends to approach her new role in the Society as she does everything else, with enthusiasm and chaos, making for a (hopefully) fun year, and can't wait to solve any mysteries that come her way. Most of the time you can find her wearing musical merch, speaking solely in movie quotes and random facts or just suddenly bursting into song (she promises she can't help when that happens), Jeepers! Some fun(?) things about Tasha, is her strange obsession with crime shows, which she believes started with the original crime show… Scooby Doo, and how she is constantly mistaken for being in her mid-twenties despite only just turning 19, Zoinks!
So let's split up gang to the regulated two meters apart and have an amazing year!
---
Like us on Facebook

Instagram