Committee
Robyn is honoured to be leading the Cecilian Society forward as President in her third and penultimate year with them, where she has found a home both on and off of the stage. In her time with the Cecilians so far, Robyn has been involved in various productions, served on the committee in the role of University Affairs and has led an Archiving Sub-Committee, which she hopes to progress further. Whilst aware of the challenges that face us, Robyn is excited to be working with such a strong team and is eager to lead them through what will be a tough, but phenomenal, year. When not with the Cecilians (which, admittedly, is not a lot of time at all!) Robyn can be found cramming for her Law degree in late night library sessions surrounded by snacks … or watching endless repeats of Friends… or both simultaneously.
---
Jake Curran-Pipe — Vice President
(vicepresident@ceciliansociety.co.uk)
Jake Curran-Pipe, JCP, Jeak, Jonk, Jek, Siddeak… the newly elected Vice President has many alter egos: the most recent one being JVP. Jake is delighted to be elected Vice President of Glasgow University's best musical theatre society and cannot wait for the coming year. During his time in the society he has shone in roles such as the One-Who-Sometimes-Came-to-Socials-Despite-Not-Being-In-The-Society-Yet, the Red Cardinal, Private Partz, team leader of a Pub Crawl team, one time bassist of the Christmas Choir 2016, and the best body roller in Burning Love (xoxo). Jake is very excited for the coming year and cannot wait to get to know new members of the society come September, in the only way he knows how… He is currently ending his time as an Undergrad doing god knows what and is excited to be doing an MLitt in Creative Writing (and working at ye olde churros shoppe). When not spending time with the Cecilians, he is either being a GUU idiot, a GUSSC idiot, or sprouting an unimportant fact about one of the Spice Girls. You've been warnedt.
---
Alice Sufferin — Secretary
(secretary@ceciliansociety.co.uk)
Alice is going into her third year of Digital Media and Information Studies (what a mouthful) having decided once and for all that unemployment is the path for her. Despite not auditioning for a role in our last show, her talents throughout rehearsals lead to her being cast as a puppet that doesn't move, talk, or sing in All Shook Up. This and having 2 inches on Danny Devito are her proudest achievements to date. Alice learnt quickly that the best way to integrate yourself into the society is by embarrassing yourself profusely – therefore she was all too willing to don a toilet seat around her head on the themed pub crawl which subsequently lead to her being denied entry to Beer Bar. Alice looks forward to bothering you all with her weekly emails, dancing with you in Factory and generally displaying all the ways to be the best mess you can be within this society.
---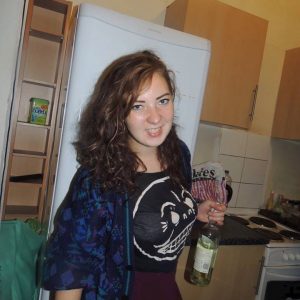 Orla Craig — Treasurer
(treasurer@ceciliansociety.co.uk)
In her spare time Orla can be found flawlessly tap dancing, perfecting her own form of martial arts and shouting her flat mates' names in a high pitched voice. She has no formal training in accountancy but armed with a scientific calculator and a post-it reminding her not to embezzle she's ready for the year ahead. Orla is now over half way through a Masters in Celtic and Viking Archaeology and in the future she hopes to discover a new site which she will name after herself. As the longest standing committee member, Orla looks forward to forcing through a vote for Die Fledermaus to be performed as the Cecilian's main show in 2018.
---
Matthew Miller — University Affairs
(universityaffairs@ceciliansociety.co.uk)
How to sum up Matthew's first year in Cecilians… Matthew joined Cecilians a nervous fresher looking for a way to introduce himself to all these outgoing musical people. The way to do this, he decided, was to get very drunk at Factory. This resulted in him kissing Jake (a Cecilian right of passage), throwing up on Sean and passing out on his couch. Although this did nothing for Sean's interior decor it certainly did make a name for him. His first year in Cecilians continued along this drunken trend with him demonstrating his cone throwing prowess on the way to HIVE (sorry Pete). Matthew had the starring part in All Shook Up with his one line in his role of Fella. He is currently a second year Law student. Aside from the heavy drinking Matthew has loved his first year in Cecilians and has met so many great new people. He is excited to meet all next year's freshers and show them how great the society is!
---
Jack McLean — Company Manager
(companymanager@ceciliansociety.co.uk)
Having recently graduated from Glasgow with a Bachelors in Education, Jack is taking some time to completely upend his life and change his career direction. Looking to pursue Production Arts and Design, he is taking this year to dive back deep into the cesspit of memes that is Cecilians: The Musical. A newbie to committee, Jack waited until his third year in the society before offering his talents in emailing, sweet-talking and, um… managing, to take on the role of Company Manager. Using a dictionary, one can see that this means Jack is (A) good company, (B) a man, and (C) an ager of fine Cecilian bagged wine. He is delighted to be staying with this crazy, nonsensical, and brilliant society for a little longer, and hopes all newbies and oldies (cough – Orla) alike have a great upcoming year. N.B. – Jack is now peetitioning for urine based puns for Urinetown.
---
Jamie Maskall — Stores Manager/Tech Liaison
(storesmanager@ceciliansociety.co.uk)
Cast member by day, Stores Goblin by night: Jamie enjoys a life of duality. Originating from the beautiful swamp hills of Scexas, Jamie spent most of his youth in a state of travel. However, his flair for the dramatic was a constant throughout his youth which naturally led him to join the Cecilians upon his arrival in Glasgow. Luckily the Cecilians also provide a great pool of participants for Jamie's observational studies, a useful tool for a second year Psychology & Biology Student. Although these studies have suggested the majority of the society are clinically insane, Jamie is proud to be a part of this wonderful group and to be filling the role of Tech Liaison and Stores Manager this year.
---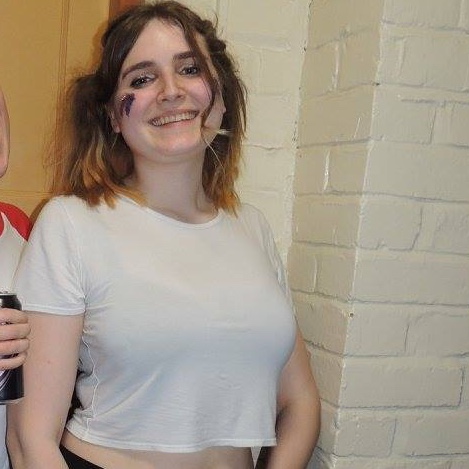 Tigerlily Bloggs — Membership
(membership@ceciliansociety.co.uk)
Tigerlily is heading into her second year to study Maths and Spanish. Since joining Cecilians she's had a busy, crazy and a brilliantly fun year. At the infamous Weekend Away, after declaring herself to be smooth she proceeded to fall off the chair she was standing on and fall down to the floor. However, like other things that can knock someone down, she got up and continued to drink with her pals, waking up the next morning with a couple of bruises and a sore head. Tigerlily is super excited for the next year, to meet all the new members and order the snazzy merch.
---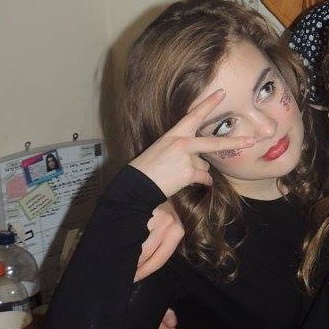 Janet Foster — Social
(social@ceciliansociety.co.uk)
Janet is a second year Film and Television with Theatre Student. Despite being a film student her taste in films largely involves rom-coms and Disney. Those who know her well will tell you that she loves nothing more than a night in watching films and rubbish TV whilst munchin' on snacks. #GrannyJanny However when the time for a social arises Janet will ascend from her untidy slumber and transform into a tequila drinking animal. Being Social Convenor opens a whole new world for this small girl. She may have to google puns, attempt to be witty and struggle sitting on tall bar stools at socials yet Janet vows to make her year as Social Convenor a year of F-U-N! In the traditional Cecilian fashion, events such as a themed pub crawl, Ceciloween, Weekend Away and Dinner Dance will happen throughout the year. Janet hopes to spice up the year with some new socials too! #dammitjanet Despite having the name of a 70-year-old woman but looking 12, Janet claims she is 'fun'. With her ID at the ready she can't wait for the year ahead!
---
Catriona Strachan — Fundraising
(fundraising@ceciliansociety.co.uk)
Catriona is going into her 3rd year studying Film and Television Studies and English Literature at Glasgow University. She has been in Cecilians for the past 2 years, with her most notable role being a dramatically fainting blue suede shoe customer. She decided to become more involved in the society by joining the committee to procrastinate from watching films and reading books for her degree. She is very excited to take on the role of fundraising so she can put her enthusiasm for meticulous planning to good use and bring the Fun into fundraising (giant Cecilian flashmob anyone?). This year is looking to be extra fabulous and she can't wait to contribute towards the success of the upcoming shows.
---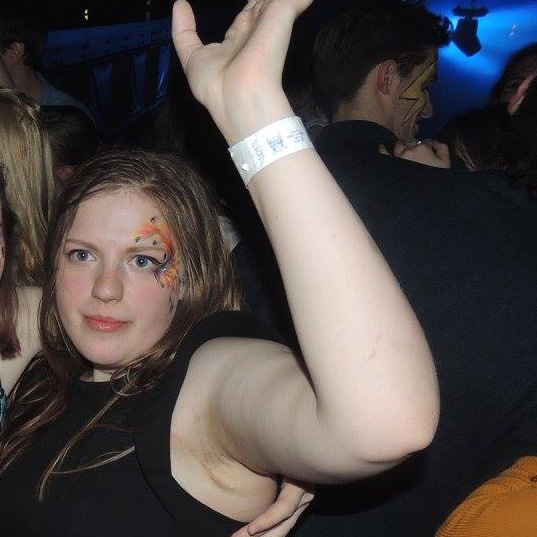 Izzy Way — Publicity
(publicity@ceciliansociety.co.uk)
Izzy is heading into her third year of study here at Glasgow, where she mostly does Cecilians, but sometimes also studies English Language and Linguistics. When not in Uni, she can be found eating her weight in guacamole, browsing ASOS for yellow clothing or continuing her embarrassing obsession with Les Miserables. During her time in the society she's been an over-enthusiastic chorus member, an assistant-director, a Brain Tapper and proud (and accidental) owner of culottes. She is so incredibly excited to be a part of this wonderful committee, and is looking forward to the amazing year we have lined up!
---
Rebecca Whitford — Media
(media@ceciliansociety.co.uk)
As Media Manager, Rebecca is looking forward to spending the year using "important committee responsibilities" to procrastinate from her degree in English Literature and Film/Television. These responsibilities will include things like: agonising over Instagram filters and Snapchat captions, and refreshing the subscriber count on the society's YouTube channel. Rebecca plans to spend the year befriending the society's tallest members and bribing them to take the group photos for her (she's only 5 foot 1, she can't fit everyone in shot from down there!). Heading into her third year, Rebecca aspires to move in to level 11 of the library this year, and to consume Netflix's entire catalogue of awful teen dramas. She is very much looking forward to spending another year in the Cecilian Society, and can't wait to Instagram (with consent!) the new and returning members all year.
---

Julia Boardman  — Past President
(pastpresident@ceciliansociety.co.uk)
Julia, aka Greg, has just graduated from the University of Glasgow with a degree in English Language. Having taken full advantage of the free bucks fizz at her graduation, she felt ready to return to Cecilians for another year to fulfil the most important role on the committee as Past President. Julia is especially looking forward to spending the year annoying the rest of the committee and proclaiming "that's not what we did in my day!" at every available opportunity. In her spare time Julia enjoys wiggling her hips to ceilidh music, wearing dressing gowns, getting too invested in reality tv, and pulling an Irish Goodbye at parties in her own flat.
Like us on Facebook

Instagram