Committee
Killian Spence (he/him) — President
(president@ceciliansociety.co.uk)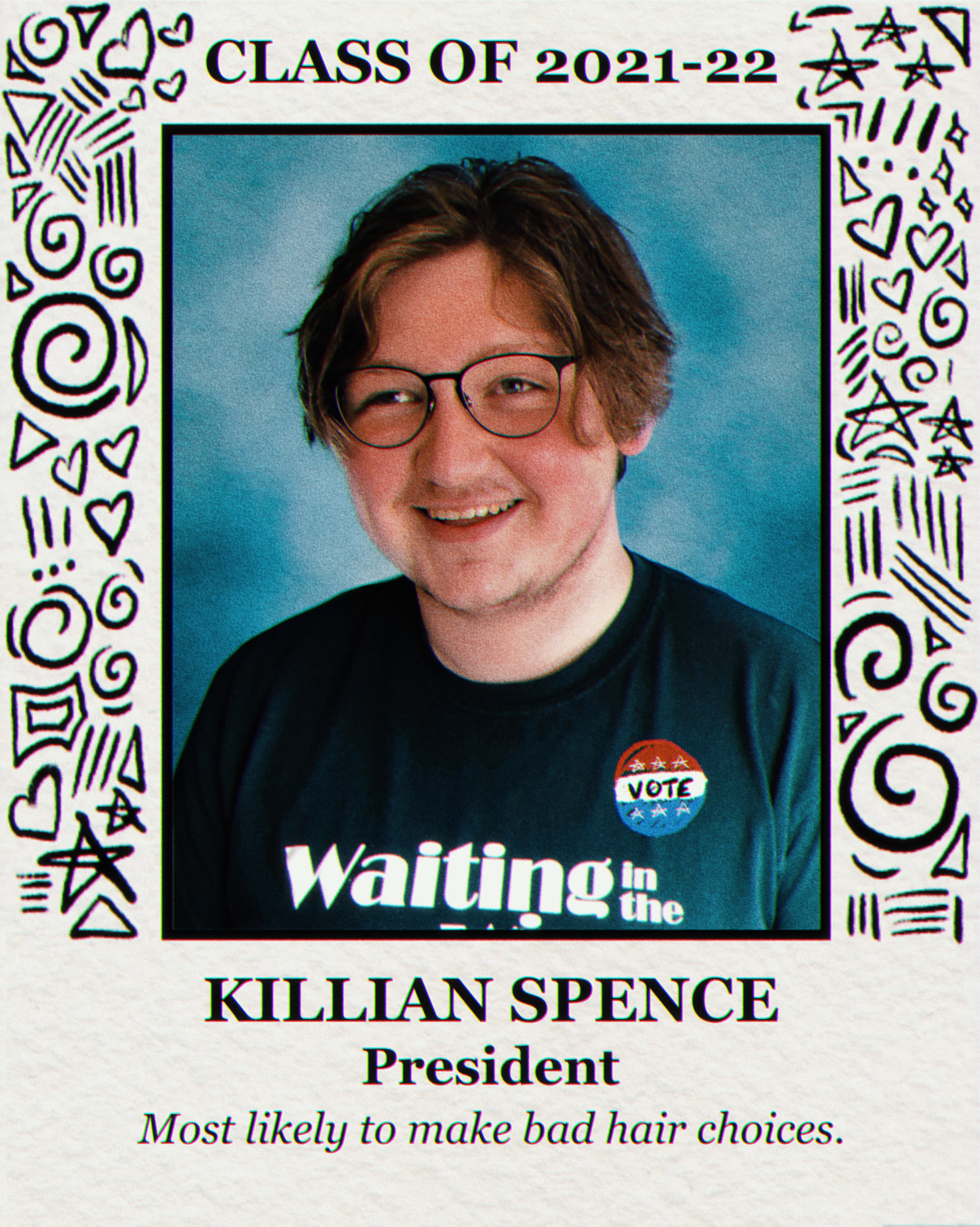 Shakespeare wrote that all the world's a stage, but if we're being honest Killian just hasn't found his 'inside voice' yet. When he isn't tearstaining his legal textbooks as a third year common law student, he can be found lecturing on the history of Star Wars or throwing himself about a stage with UofG's premiere musical theatre society. After his year of coordinating zoom socials for Cecilians, he's excited to finally annoy people at an in-person rehearsal again and is 'pure buzzin' for Cry-Baby.
---
Priya Williams (she/her) — Vice President
(vicepresident@ceciliansociety.co.uk)

Priya attempted to keep a low profile as the mysterious company manager last year, but unfortunately she got too swept away in making face swap quizzes and creating scary looking hybrid committee children. She intends to bring these cursed skills back to the society in her new role as Vice President, alternatively known as Killian's personal hitman and bodyguard. While not dispatching Killian's enemies, you can find her working hard to complete her last year of an English Literature and Theatre Studies degree, while at the same time doing her best to make sure everyone has a brilliant Cecilian year ✨
---
Becky Campbell (she/her) — Secretary
(secretary@ceciliansociety.co.uk) 
Becky is going into her 4th year of her french and spanish degree (is somehow still the baby of Cecilians) and is suuuper excited to be secretary this year !! Her love of colour coded google drives, fun fonts and a name that rhymes with seccy makes her the most qualified for the job for sure !!! Becky's fave things include spanish tv dramas, glee and the smiling emoji with all the little hearts 🥰 She is still mourning the death of Rock of Ages rights but is nevertheless super excited for a year of fun and to be back on stage with all her best pals!!
---
Rained Veka (she/her) — Treasurer
(treasurer@ceciliansociety.co.uk)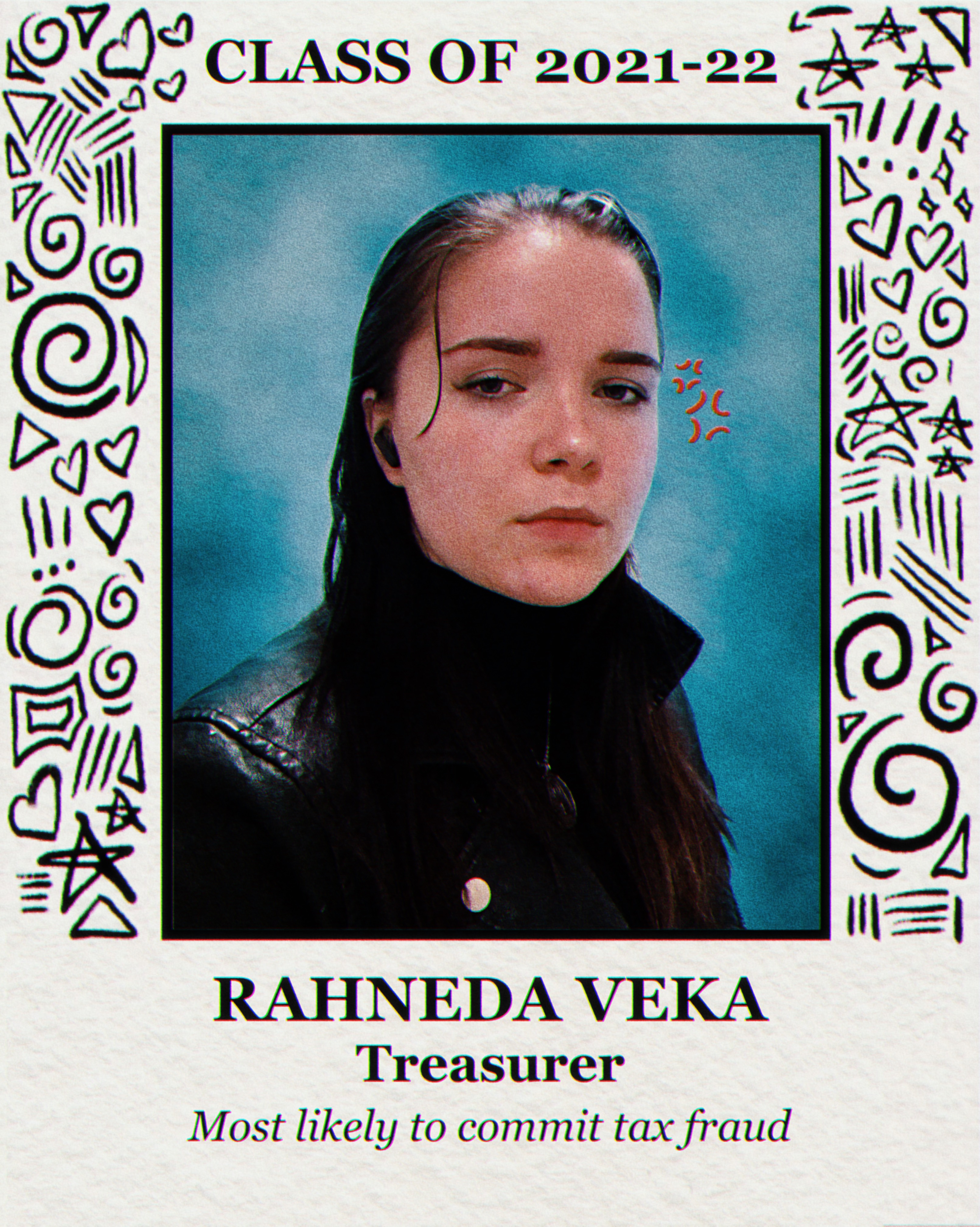 The lockdown might be over but Rahneda's time as treasurer is just starting to get 🔥real🔥, as she crawls into her 4th year with a useless degree in Theatre/English Literature that brings her nothing but tears and judgemental looks from distant family members. After a hell of a ride that was 2020, Rahneda decided to forever reign as treasurer in order to multiply cecilian finances by constantly demanding money from everyone in sight (and definitely not to steal all of it in order to fund a theatre society that will finally put on Jasper in Deadland). Good thing about big amounts of money is that they can make anything appear, or alternatively, disappear forever.
On a different note, Rahneda admits that cecilians have been bringing nothing but chaos into her university life and she hopes that this year everyone gets to experience a cecilian ceilidh, a curry night, a get out and a game of baggo xoxo
---
Rosie Shaw (she/they) — Past President
(pastpresident@ceciliansociety.co.uk)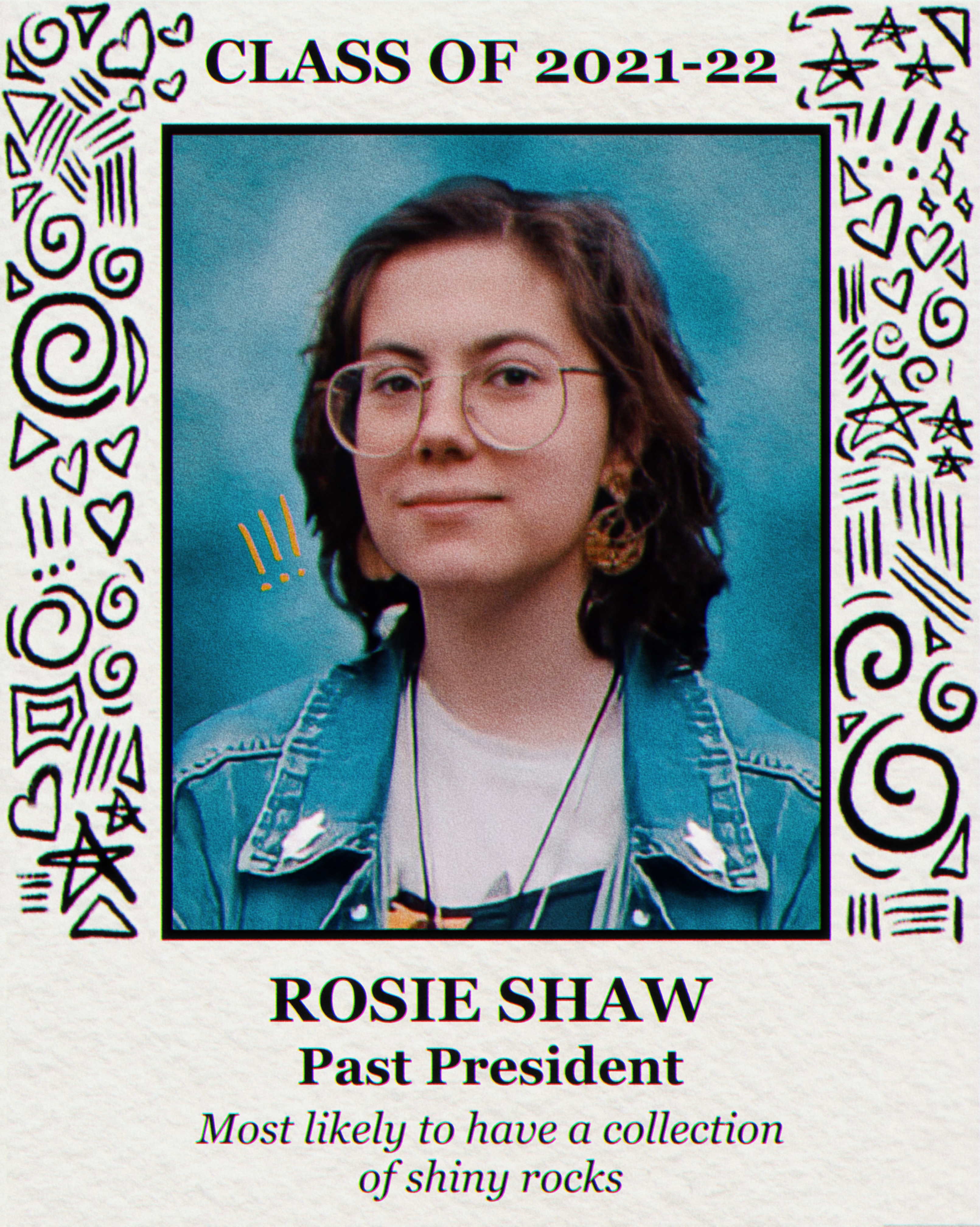 Rosie is buzzing to assume her fated role as chaotic entity in the back of committee, and mosey on down to the realm of Old Cecilians (TM). She's not quite grasped what makes a good past president yet, jumping between shouting garbled advice down the phone at Killian and disappearing from public memory entirely. In an attempt to escape the dominion of the stores rats, she has made the dreadful decision to pursue a career in comic books and move to Manchester, where she will continue to cause trouble (*ahem* give advice *ahem*) for the committee from afar. 🤠
---
Katie Hindle (she/her) — University Affairs
(universityaffairs@ceciliansociety.co.uk)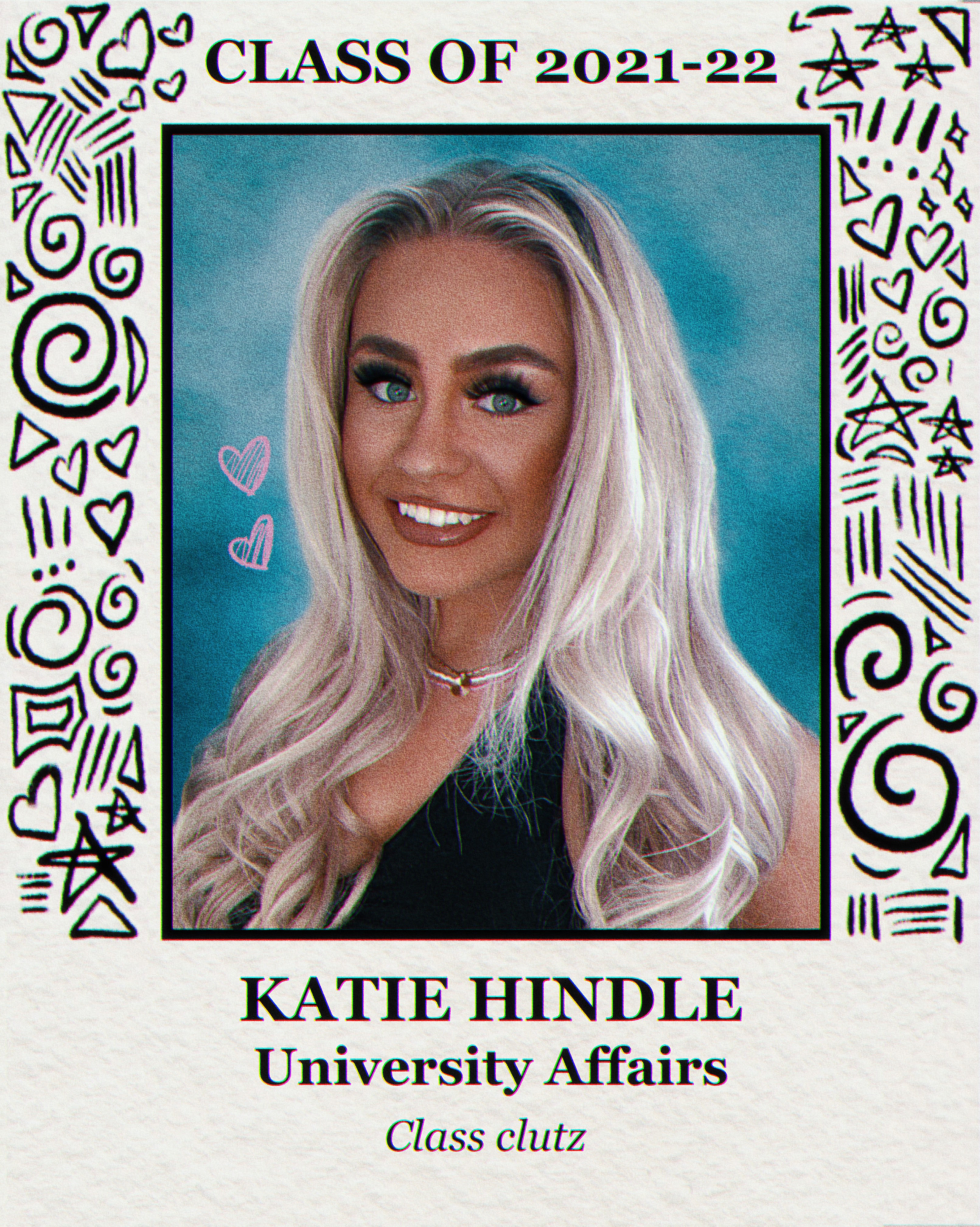 Katie is living her legally blonde dreams and going into third year studying Scots law. She's always had a passion for musical theatre and is so excited for the year ahead (hopefully) getting back on stage with Cecilians! This is her third year in the society but first year on committee so is really looking forward to the new challenge of this! Her goals in cecilians this year are meet lots of new faces, get singing and dancing again, have fun and avoid the stairs at the Mitchell at all costs!! 
---
Francheska Francisco (she/her) — Company Manager
(companymanager@ceciliansociety.co.uk)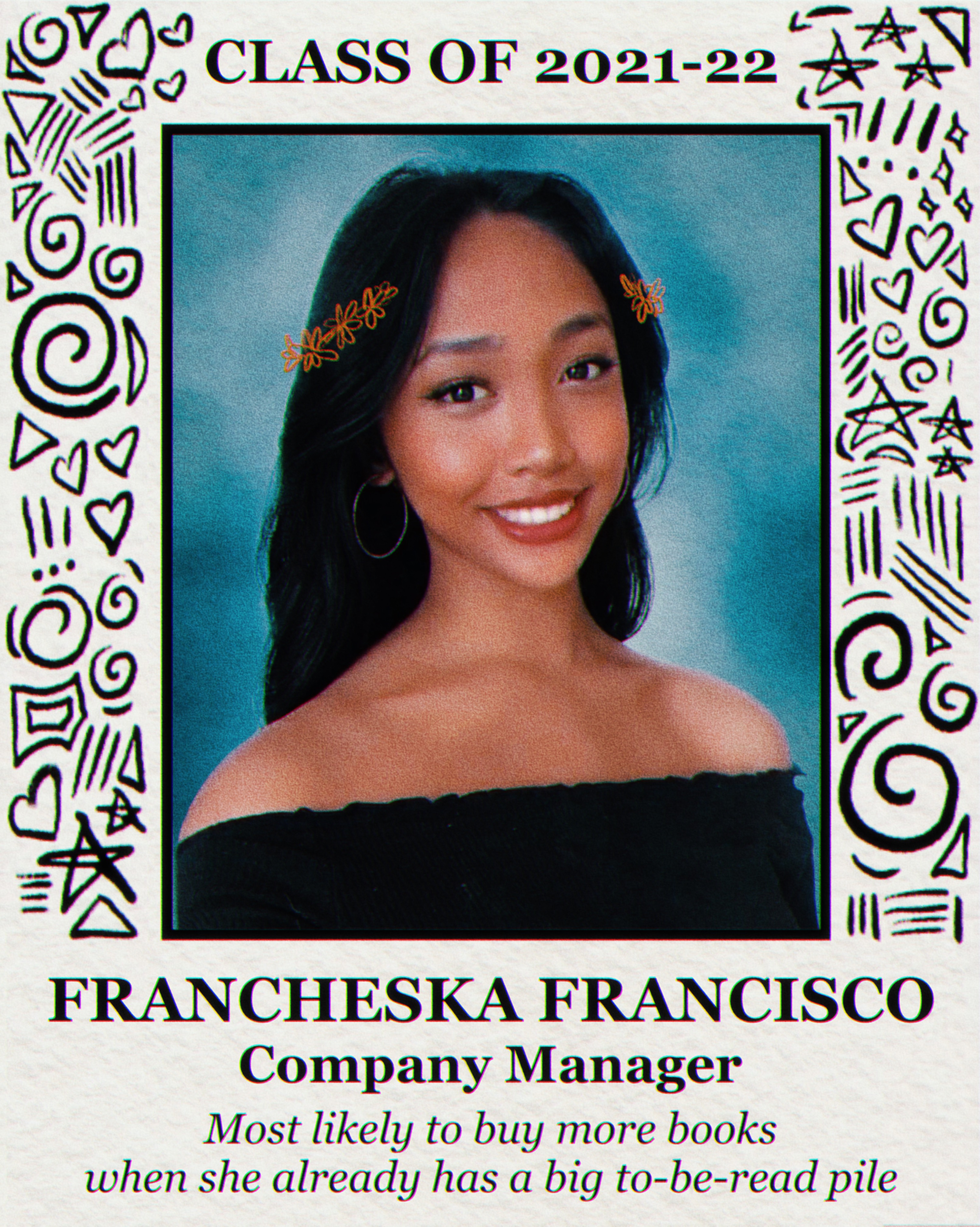 After a year of organisation and lots of colourful stationery, Francheska is delighted to continue her love affair with diaries, planners and colour-coded things in her brand new role as Company Manager! Apart from musical theatre, she loves cinnamon rolls, mystery thrillers and copious amounts of bubble tea — the tried and tested triad that helps her through her English Literature degree. Francheska is super excited to dance her way into her fourth year with the society, and most of all, reunite with such a wonderful bunch of people for the new year ahead. She cannot wait to put her safety and speech writing cap on for show week, but for now, she is just thrilled at the chance to redo her yearbook photo without the hair dye gone wrong.
---
Natasha Brown (she/her) — Stores Manager/Tech Liaison
(storesmanager@ceciliansociety.co.uk) 
After reaching her video editing quota last year as Media Manager, Tasha is springing back into a new year of Cecilians as Stech. Going into the stress of her third year of a Music and Film & TV degree she is excited to have a legion of stores mice behind her. Since she has spent the past year choreographing dances while she cooks and breaking into song while watching TV, her family are ready to return her to the Cecilians. Being obsessed with Grease in her younger years created a deep love of the 1950s that will finally be sated with getting dressed in a leather jacket and jiving in the Mitchell this year. Ready to hit the ground running and get back to performing, she's really excited to work with this amazing team and have a powerful year.
---
Abby Pickavance (she/her) — Membership Liaison
(membership@ceciliansociety.co.uk)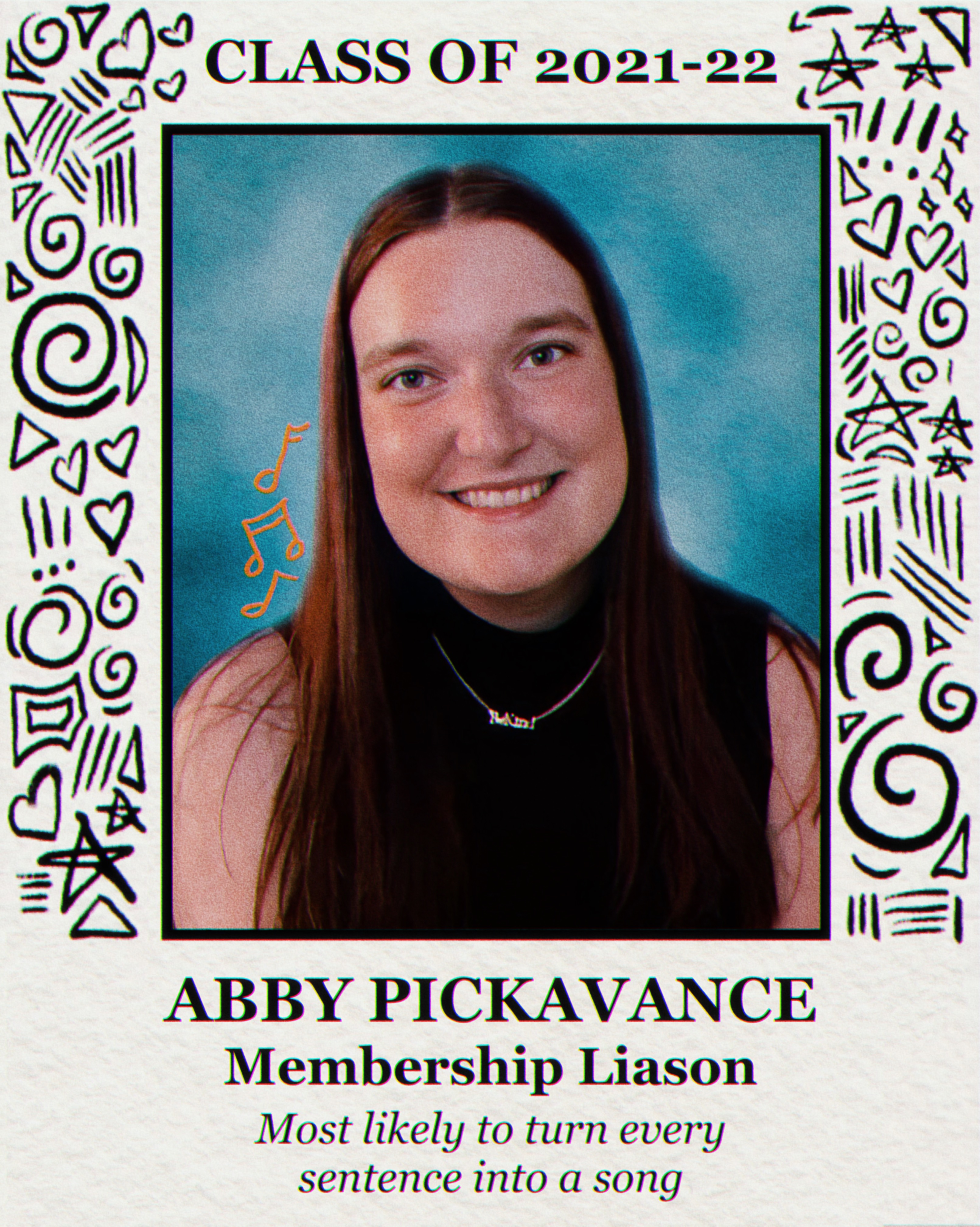 What't that you say? Abby is gracing us with her presence as this years Membership Liaison? And you thought this year could't get any better!
Back and better than ever, Abby is going into her third year of her Geography degree (so cool right?!?) and her third year of Cecilians. She wants everybody to know that she is sUpEr ExCiTeD to get stuck into the role of Membership and can't wait for everyone to get sick of her announcements by the time February hits. When Abby looks back at her time in Cecilians, two words jump to mind: PROMO HIVE!!! It's all she thinks about, and she looks forward to this years.
Instead of some boring interesting facts about her, Abby has provided a two truths and a lie:
1. Abby has been featured in the greatest magazine known to earth, the Spongebob Squarepants magazine. 
2. Abby has never been able to do a cartwheel 
3. Abby has a phobia of slugs
---
Katharine Northcote (she/her) — Social Convenor
(social@ceciliansociety.co.uk)
You were in awe of her choreography for both HSM2 (2018) and Pippin (2020), you laughed at her show week instagram take-over and you cried each time she beat you in a Zoom quiz. Now, get ready to do it all again as she beings her reign as Socials Convenor! Katharine has been a member of Cecilians since 2017 (!) and she is just so happy to finally be taking a place on the Committee and continuing the great legacy that past Socials have created. With the hopes that Covid-19 will hopefully clear up and allow for us to actually meet in person, she can't wait to get back to crawling through the pubs of the West End, swinging from person-to-person while Stripping the Willow and most! importantly! spending a weekend away full of shenanigans with what is undeniably the best group of people on campus. Aside from being a fourth year Theatre Studies student (that's right, she finally made it folks) Katharine spends most of her time living life vicariously through her Sims while watching the cinematic masterpiece Twilight (2008) for the…many-th time. Katharine is so excited for the year to come and can't wait to see friends old and new. Let's make some MEMORIES people!!
---
Lucy Docherty (she/her) — Fundraising Manager
(fundraising@ceciliansociety.co.uk)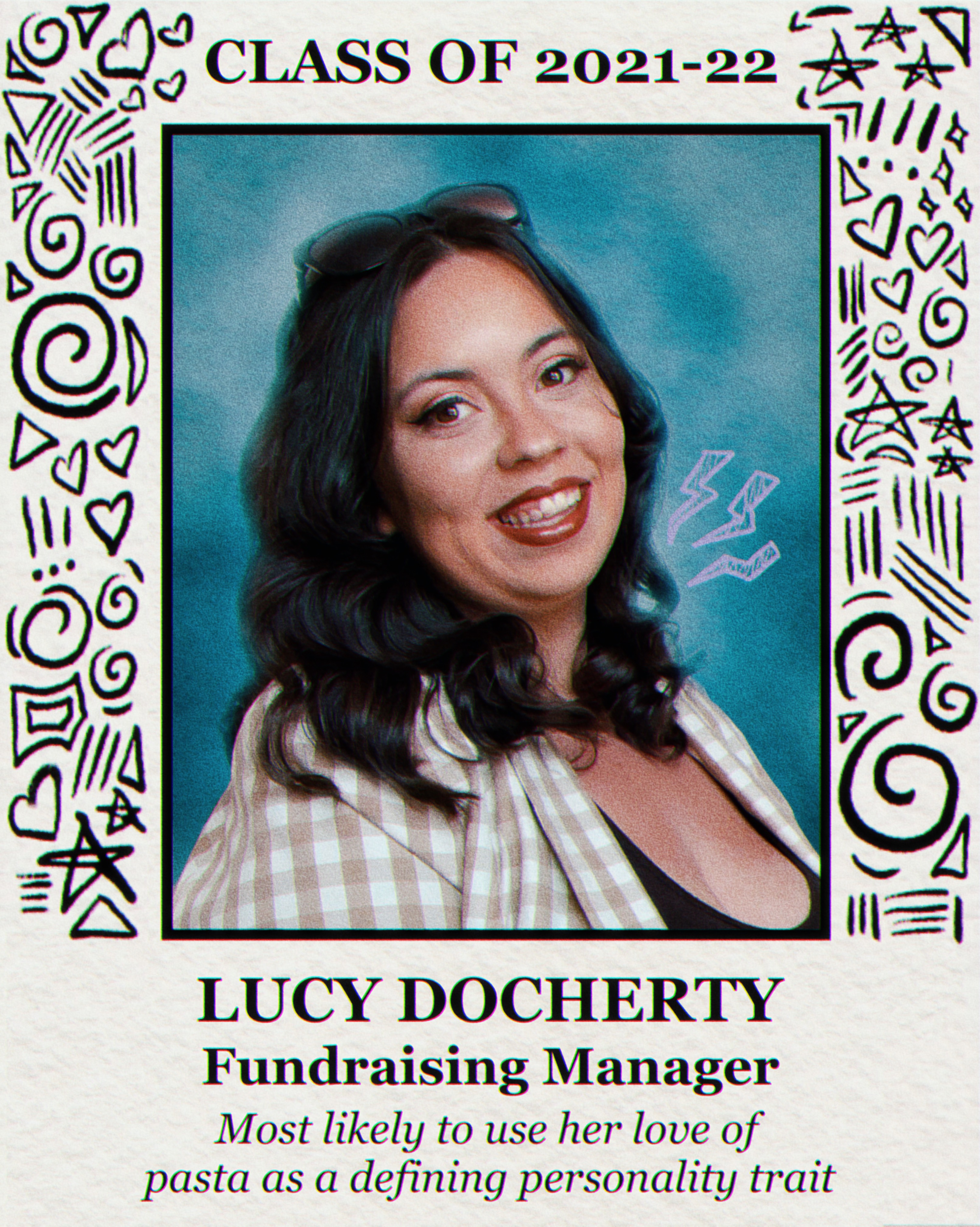 Lucy is so excited to be the Fundraising Convenor for her last year in The Cecilian Society. Lucy joined the society at the beginning of her second year of her Education degree and her only regret was not joining for her first year. Within her years in the society, Lucy has filled many roles. From Media Manager, to Henry VIII's first wife. A sexy player's assistant to a moving stone – Lucy really has tried it all in the society. Approaching her Masters year, Lucy is beyond delighted to make her grand return to committee and use this platform to make freshers and current members alike feel the love the society has to offer – as well as raising loads of money! Lucy is also a qualified teacher now, so if you ever need reminded of your alphabet, she'll be on hand to help!
---
Grace Ford (she/her) — Publicity Manager
(publicity@ceciliansociety.co.uk)
Having spent the last year of her life participating in zoom socials, Grace decided to try something a bit more thought-provoking by adding zoom committee meetings to the mix, and she can't wait to get involved as this years publicity officer! Grace is going into her third year studying psychology (but no, she unfortunately can't read your mind) and also her third year with Cecilians, having thoroughly enjoyed performing in Popstars, Pippin and last year's Revue! Normally Grace can be found at the theatre or drinking cocktails somewhere and after the lack of that recently, she is very excited to get back doing rehearsals followed by a Hive night out! Grace is very optimistic about the year ahead and is looking forward to meeting all the new faces and reigniting the fiery madness that is Cecilians!
---
Emily Murdoch (she/her) — Media Manager
(media@ceciliansociety.co.uk)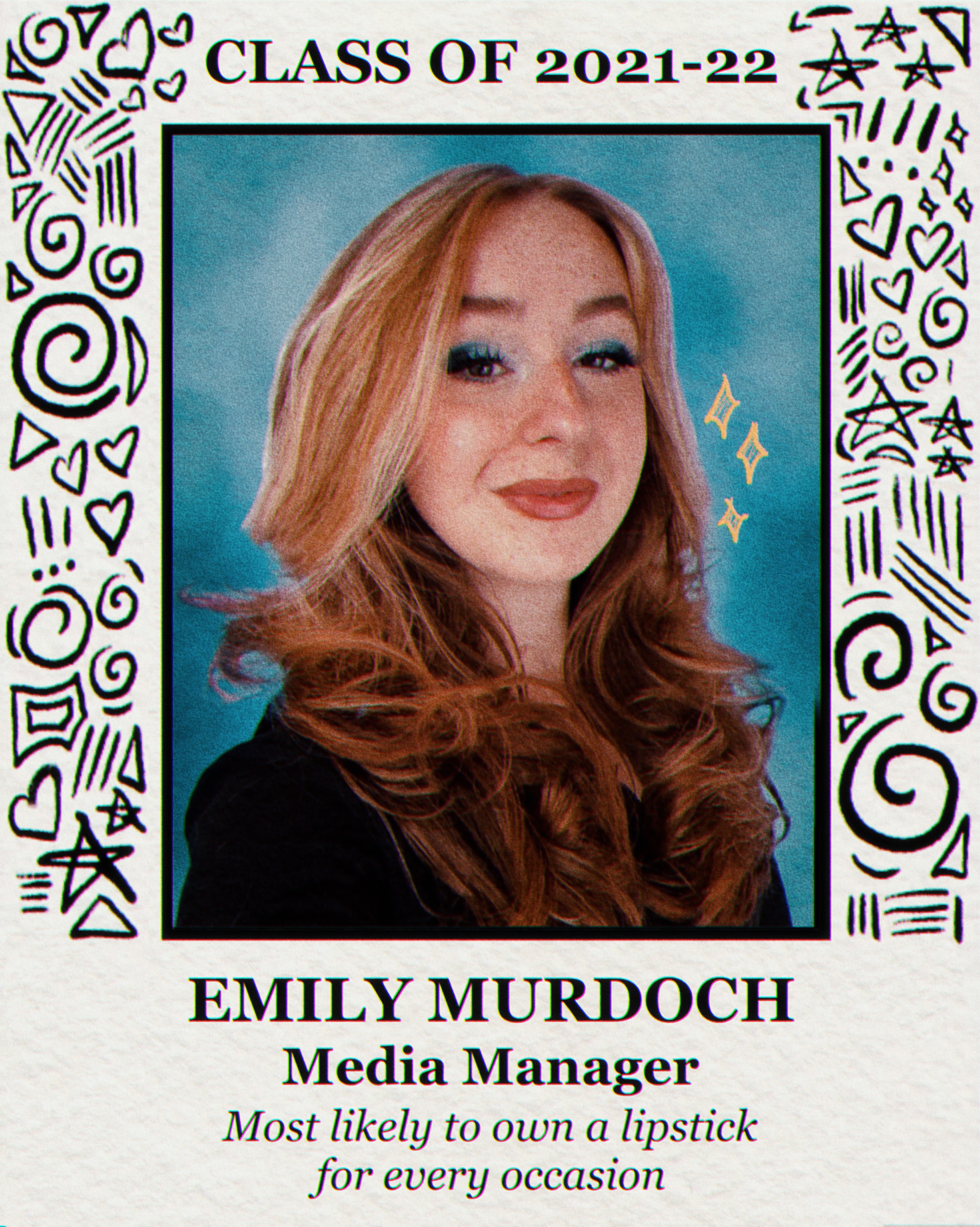 Returning for a fabulous third year in Cecilians (oh yeah, and her uni degree), Emily is excited to be on committee! As a Philosophy and Film/Tv student, she spends a whole lot of time contemplating her own existence and figuring out which films pass the Bechdel Test. But don't worry, this year she's going to be dedicating her life to being the best media manager she can be! The true loves of her life are nice fonts, doo-wop songs and looking glam. Her favourite musicals include Billy Elliot and The Rocky Horror Picture Show (she can often be found crying about the Billy Elliot soundtrack — just ignore her.) 
Making a strong start by forcing committee to relive their high school picture day, Emily can't wait for the year ahead! She's especially excited to get back to rehearsing and performing on stage with her friends — as well as enjoying some (hopefully) non-zoom socials!
↓ Like us on Facebook! ↓

↓ Follow us on Twitter! ↓