Children of Eden 2019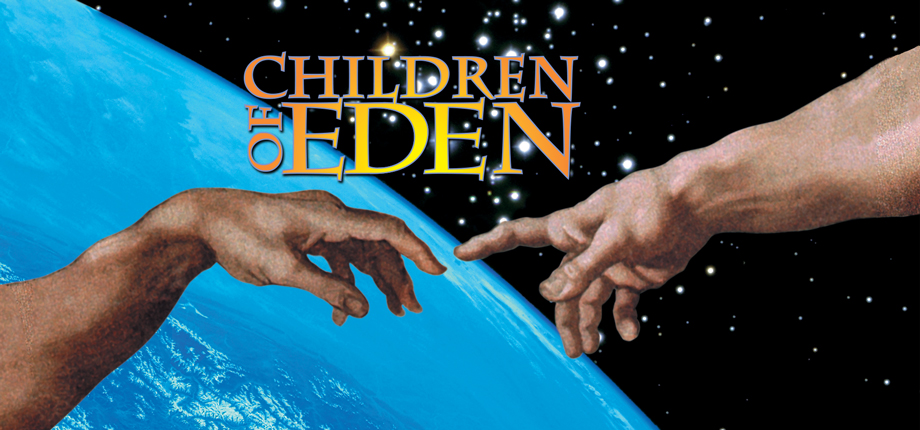 This year the Cecilian Society will be preforming Children of Eden as our Main Show at the Mitchell Theatre on the 20th-23rd February 2019!
Children of Eden is a show based off of stories found in the Book of Genesis. The first act is based on the Garden of Eden and Cain and Abel stories, while the second act is a twist on Noah's Ark. Often, this show is played as a biblical production, but not this one. Though the stories remain based on bible stories, these characters are used more to present themes of intellectual independence, family relationships, rebelliousness and free will. This story is created by a chorus of Storytellers who, along with a principle cast, create the stories through musical numbers ranging from the jazzy and sassy, to heartfelt and poignant all the way to giant dance numbers. This show has something for everyone!!
How to get involved:
In order for this show to be as brilliant as possible we need a cast and Tech Team – so here's where you come in!
Here at The Cecilian Society we are proud to have an open-chorus policy, meaning everyone who wants to perform will be on stage during the performance. Similarly, we are always looking for new people wanting to join our amazing Tech Team!
If you would like to get involved with Children of Eden, on-stage or off, please come to QUDOS in the Queen Margaret Union at 7-10pm on Thursday 27th of September!
Make sure you like our Facebook page and click 'going' on our event for reminders and updates!
Tech
If you think you would enjoy building the set, operating light and sound, or generally just getting involved with the running of our performances, then we would love to have you join our amazing Tech Team! No previous experience is needed, just the desire to have fun and build something amazing!
If this sounds up your street, please come along to our meeting in QUDOS on Thursday 27th! Here you can join our wonderful Tech Team and get whisked away for an introduction to the tech side of the show!
Reminder that our techies will be meeting on Thursday evenings and Sunday afternoons over the next few months.
Cast
If you are interested in joining our Cast for this production, this meeting will be the first of two pre-audition rehearsals for the show, where you will learn everything you'll need to know for the auditions! Despite us being an open-chorus society (meaning that you don't need to audition to be in the show), we do highly encourage you to come to the first pre-audition rehearsal on the 27th of September because you'll get an introduction to the show and the PT!
The second pre-audition rehearsal will take place the following Thursday (4th of October) where we'll recap everything and you can sign up for an audition slot!
Auditions will be happening on the 6th and 7th of October, with callbacks on the 8th.
Once the show has been cast we will begin rehearsals every Thursday evening and Sunday evening. Principals and specialists will also be required for additional weekly rehearsals on Sundays during the day. The first full-cast rehearsal for CoE will be happening on Thursday the 11th of October!
---
For those auditioning, you may want to familiarise yourself with these roles:
Father (GENDER BLIND CASTING, Baritone/Tenor OR Mezzo Soprano, Range G2-A4)
Father is a far from perfect parent, who holds their children to high standards. At the start of the show, we see them struggle to deal with Eves refusal to follow their every order. They often overreact, but ultimately they just want what is best for their children. In the second act we see that Father has not changed much, though they now communicate even less with their children than before. It isn't until Father sees Yonah free a dove from the ark that they begin to soften their overbearing parental style.
The individual cast as Father must be a strong singer with a good belt as well as a confident actor as they carry many of the shows numbers, both chorus and solo. They must also be able to present themselves as a foreboding figure, worthy of the reverence given to them by the rest of the characters.
NOTE – this role is not God, though they might represent the role God played in the original biblical story, they are ultimately a Father and Parent in our story. 
Adam/Noah (Tenor, Range A2-A4)
The actor who plays Adam in the first act will also play Noah in the second act. This is one of the more challenging pieces of double casting, as the two men have significantly different character traits. Adam has never learned to say no, all he knows of the world are what Father and Eve have told him and so at first he finds it difficult to form his own opinions and act for himself. Towards the end of the act however, now that he is a parent himself, Adam begins thinking for himself more, impatiently pushing his beliefs on Cain and Abel like Father did to him. Noah's character traits are more like this later development of Adam, however he is a much calmer parental figure. Noah does not wish to force his children to act a certain way, but this conflicts with his own desire to be an obedient son. Overall though, both men are loving and hardworking members of a family at their core. 
We will be looking for a Tenor with a good belt to cast in these roles, they must also be able to show a clear difference in how each character is portrayed.
Eve/Mama (Mezzo-Soprano, Range G3-A5)
Eve and Mama are again different in character, representing a development of a matriarchal role. Eve is an inquisitive and stubborn woman, who can, and often does, stand up for herself. As a mother, she seems to have accepted Adams authority – perhaps out of guilt for eating the apple. Towards the end of the first act however, she sees how keeping secrets to protect those you love ends in disaster, and she apologises to her children (the animals) for ruining the innocence of the world. Mama can be seen as a continuing of this version of Eve, as she often steps in to keep her family together. Mama however is a much less stubborn and argumentative woman than Eve, and to her, family is more important than knowledge or adventure. 
The person cast in these roles needs to have a strong command of their voice (including very strong belt) as they will sing numerous songs in this show, often not leaving the stage for large amounts of time.
Cain/Japheth (Tenor, B2-A4)
Cain and Japheth are yet again similar but different men. Cain is curious, rebellious and angry, while Japheth follows his heart, and tries his best not hurt those he loves in the process. These differences and developments could be seen as the result of a stronger family unit, or else as the difference in maturity between Cain's seventeen and Japheth's twenty-something. Either way, being double cast in these roles is one of the most challenging acting roles in the show, as the similarities between the two mens plots need to be maintained, whilst both being able to play Cains anger and Japheth's gentleness.
This role requires not only a strong actor, but one with a strong Tenor belt. 
Abel/Ham (GENDER BLIND CASTING, Baritone/Tenor, Range B2-G4)
Abel is Cain's younger and more conservative brother who follows the "rules". He ultimately chooses his parents over Cain but this is not an easy choice for him. Before dismissing Abel as a coward though we must remember he is only fifteen, and naturally more timid than his brother. Ham is Japheth's middle brother -he is not as docile as Japheth, nor as hot headed as Shem. Looks up to and follows his older brother Shem's lead, and ultimately has a fight with Japheth to mirror that between Cain and Abel.
We are happy to cast anyone with a suitable voice in this role as long as they can bring youth and love to life in these characters. 
Yonah (Mezzo Soprano, Range G3-G5)
Yonah is a servant to Noah's family, who has fallen in love with Japheth. She acts as the catalyst for action in the second act, as she is a descendant of Cain, whom Father has forbidden his children from marrying. She is an incredibly strong and selfless young woman and ultimately, is the one to make Father and Noah see that there is more to being a parent that making rules and issuing punishments. 
Yonah should have a good grasp of both lower and upper ranges, as well as being a strong actress who can do this incredible character justice. 
The Snake (GENDER BLIND CASTING, Range – Various)
Specialist Role – The snake is made up of Storytellers, attempting to further the plot of the show by convincing Eve to follow her temptations and desires.
Other
There are also several other small supporting roles including young Cain and Abel, the rest of Noah's family, a dove and other specialist and soloist roles, the vocal ranges for these vary.
---
The Cecilian Society proudly presents: Children of Eden.
Book by John Caird. Music and Lyrics by Stephen Schwartz. 
Based on a concept by Charles Lisan. Orchestrations by 
Bruce Coughlin & Martin Erskine.

This amateur production is presented by arrangement with Music Theatre International (Europe).
All authorised performance materials are also supplied by MTI Europe www.mtishows.co.uk
Like us on Facebook

Instagram