Annie 2013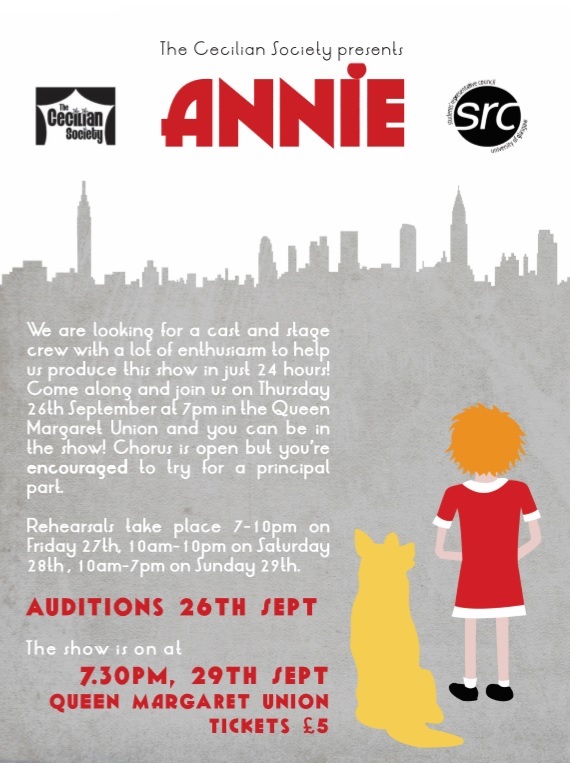 Design by Orla Craig
In the depths of the 1930's, Annie is a fiery young orphan girl who must live in a miserable orphanage run by the tyrannical Miss Hannigan. Her seemingly hopeless situation changes dramatically when she is selected to spend a short time at the residence of the wealthy munitions industrialist, Oliver Warbucks. Quickly, she charms the hearts of the household staff and even the seemingly cold-hearted Warbucks cannot help but learn to love this wonderful girl. He decides to help Annie find her long lost parents by offering a reward if they would come to him and prove their identity. However, Miss Hannigan, her evil brother, Rooster, and a female accomplice, plan to impersonate those people to get the reward for themselves which put Annie in great danger.
Director:
Alex Lyne
Assistant Director:
Eilidh McMillan
Musical Director:
Andrew McDivitt
Assistant Musical Director:
Kirsty Bryson
Choreographer:
Megan Crampsey
Assistant Choreographer:
Jamie Daly
Technical Director:
Ben Galloway
Assistant Technical Director:

Faith Clark
Our 2013 Weekend Show was an absolute blast, with faces old and new appearing on stage to tell Annie's story. One of the most notable (and somewhat interesting) things about the show was the age of the orphans, with our Annie actually being a whole year older than our Warbucks! Some would also argue that, due to the large amount of musical numbers (a song in every scene!) and dancing for the chorus to do, it was one of our most challenging Weekend Shows to date! But we certainly made it work, and the show was camp, fun and (more importantly) glam!
Photographs courtesy of Andrius Daulys, Kirsty Bryson & Nikola Cabanova