The Wedding Singer 2010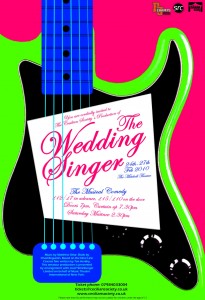 Amy Fieldhouse
Robbie Hart is singing the hits of the 1980s at weddings and other celebrations. He also can keep the party going in good spirit, he knows what to say and when to say it. Julia is a waitress at the events where Robbie performs. When both of them find someone to marry and prepare for their weddings, it becomes clear that they've chosen wrong partners.
Director: Lorna Moir
Assistant Director: Julie Craig
Musical Director: Colin Dobie
Choreographer: Amy Fieldhouse
Choreographer's Assistant: Emma Fraser
Technical Director: Lee Adams
Assistant Technical Director: Emma Plant
Anyone who has seen the Wedding Singer musical knows just how catchy the songs are and how hilarious all of the 80s references can be. A particular favourite of some members is 'All About the Green,' where our cast turn from 80s rebels into monochrome suits, marching about the stage with their ultimate power V!
Photography by Sophie Malleson. See more of her works at http://www.flickr.com/photos/sophie_malleson/