This year the Cecilian Society proudly presented: ALL SHOOK UP!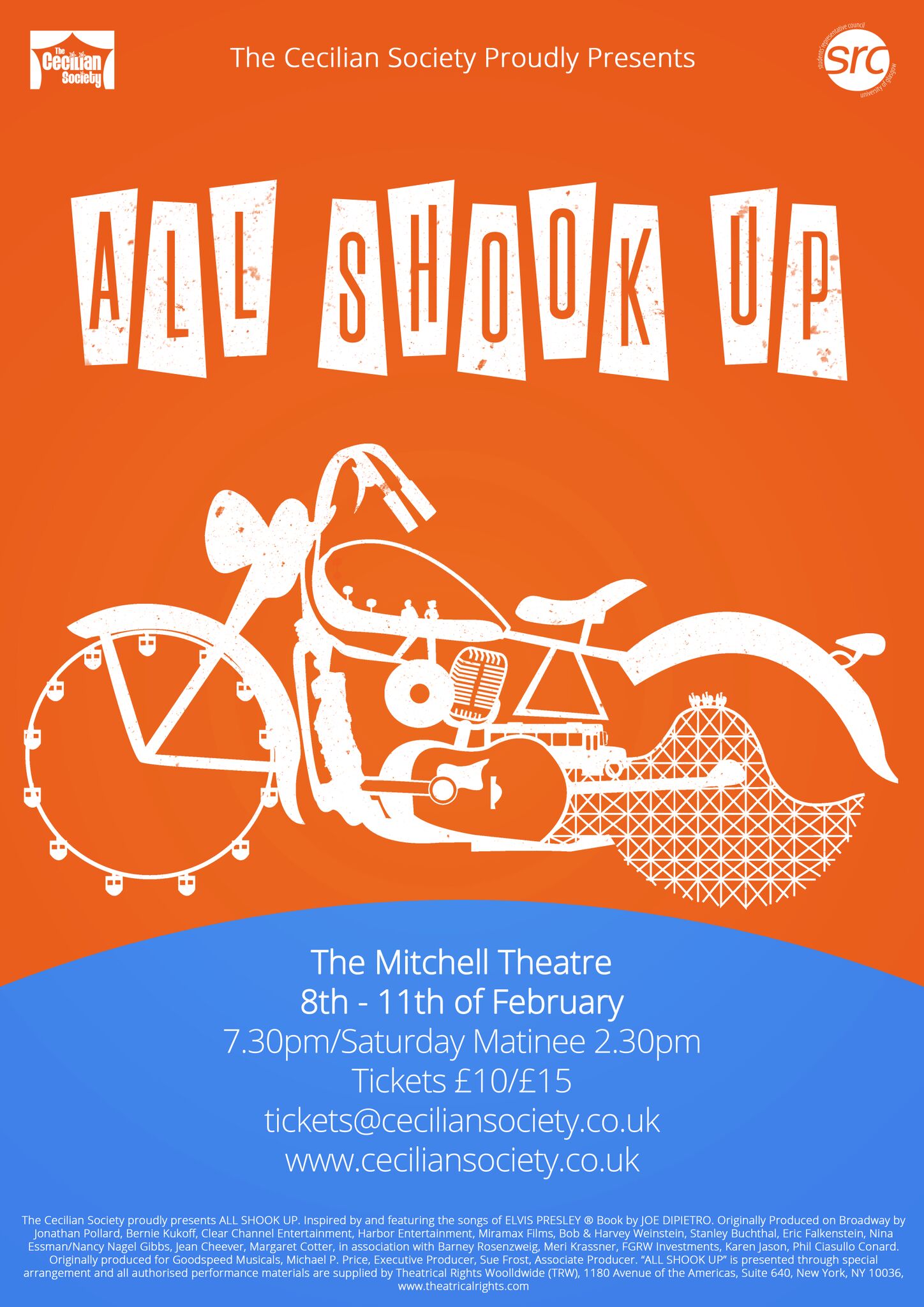 IN THE MITCHELL THEATRE: FEBRUARY 8-11TH 2017



Set in a non-descript town in the USA in the 1950s, the story of All Shook Up is a funky fusion of Twelfth Night and Elvis' greatest hits. Mayor Matilda has declared the Mamie Eishenhower Decency act, where noone around can rock out! But little does mechanic Natalie know that when she meets wheelin' dealin' roustabout Chad, her life is about to get All Shook Up! In this story of love, music and most importantly Elvis, get ready to have your feet movin and your hips a'shakin!
Buy your tickets now and bring along your friends and family because it is going to be a show that you will never forget.
To get all your updates on everything Cecilian and more follow us on:
Instagram: @ceciliansociety
Twitter: @cecilians
Snapchat: @ceciliansociety
---
 The Cecilian Society proudly presents ALL SHOOK UP. Inspired by and featuring the songs of ELVIS PRESLEY ® Book by JOE DIPIETRO. Originally Produced on Broadway by Jonathan Pollard, Bernie Kukoff, Clear Channel Entertainment, Harbor Entertainment, Miramax Films, Bob & Harvey Weinstein, Stanley Buchthal, Eric Falkenstein, Nina Essman/Nancy Nagel Gibbs, Jean Cheever, Margaret Cotter, in association with Barney Rosenzweig, Meri Krassner, FGRW Investments, Karen Jason, Phil Ciasullo Conard. Originally produced for Goodspeed Musicals, Michael P. Price, Executive Producer, Sue Frost, Associate Producer. "ALL SHOOK UP" is presented through special arrangement and all authorised performance materials are supplied by Theatrical Rights Worldwide (TRW), 1180 Avenue of the Americas, Suite 640, New York, NY 10036, www.theatricalrights.com
Like us on Facebook

Instagram